Showing: 1 to 2 of 2 products
Pro Dropper Seatpost Protector
With neoprene construction and a tough woven outer skin this is the ideal solution to protect your dropper seatpostBy keeping mud dust debris and stones away from the upper stantion of your post you can drastically decrease servicing costs and frequencyEasily and securely mounts to your saddle...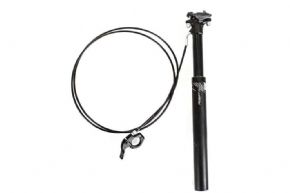 Rsp Plummet Remote Dropper Seat Post 30.9mm
The Plummet seatpost will change your riding style completely. You will be dropping your saddle on the fly and hitting technical sections faster than you ever have. 30.9mm/31.6mm x 441mm Dropper seat post125mm drop with infinate adjustabilityAir free designHydraulically dampedCable operated handlebar...