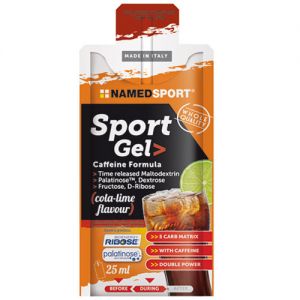 The Sport Gel from NamedSport provides continuous and gradual energy release from simple and complex carbohydrates. A pure and refreshing taste that utilises 5 carbohydrates with different absorption rates to provide a constant source of energy, ideal for longer rides and races.With low GI Isomaltulose Palatinose Featuring a caffeine boost, ideal to take on the final stage of a race. Caffeine helps improve concentration, alertness and contributes to an increase in endurance performanceDelivers Maltodextrin with different release D.E.No mess, access made simple with easy-to-use strawPerfect consistency, no water neededThis Sport Gel is perfect for before and during your rides as and when you need...
Best Price: £17.42 from Tweeks Cycles
| Stockist | Catalogue Product Name | Price | |
| --- | --- | --- | --- |
| | NamedSport Sport Gel - Box of 15 x 25ml - Box Of 15 x 25ml Sachets | £17.42 | Visit Store |
Related Sports Products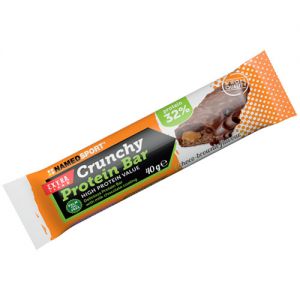 NamedSport Crunchy Protein Bar - Box of 24 x 40g
The Crunchy Protein Bar contains an impressive 32% protein and the bar is covered in a layer of delicious caramel and crunchy milk chocolate. Ideal to top up protein levels before, after or during intense exercise, making it perfect for cyclists.13g of protein per 40g bar / 24 x 40g Bars per boxSupports...
NamedSport Total Energy Fruit Bar - Box of 25 x 35g
This tasty Total Enegry Fruit Bar contains 30g of carbohydrates, rice crispies, honey and fruit as well as featuring vitamins B1, B6 and vitamin C. It delivers rapid and sustained energy with slow releasing carbs providing prolonged energy.Made with crunchy almonds, hazelnuts and walnuts30g of carbohydrates...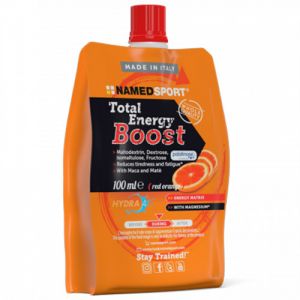 NamedSport Total Energy Boost - Box of 18 x 100ml
Total Energy Boost is a liquid energy supplement from NamedSport that is created from simple and complex carbohydrates with different time release. This provides a gradual and continuous energy boost and helps with mental performance.Orange flavour featuring NAMEDSPORT Hydra4G matrixMaltodextrin with...